We Offer Two App Options
For classrooms or large groups, subscribe to our web-based app in bulk and users can access it in their Web browsers on mobile devices or even computers. An optional Support Contract is also available!
Learn about The Walking Classroom mobile app!
Loaded with almost 200 fun, educational podcasts, The Walking Classroom mobile app brings our award-winning (100% ad-free) program to your own mobile device. Now kids (and families) can walk at home—or anywhere—while listening to these fun, custom-written, educational podcasts. (Learn more about WHY you should walk while listening, here.)
The traditional app includes 26 free podcasts for you and your students to sample!
Almost 200 podcasts are included in the app!
The app includes 191 15-minute podcasts on topics related to English language arts, social studies, science, biographies, and more.
Finding a podcast
Simply select a category from the navigation menu and then scroll downward through our well-organized and thought-out subcategories to find the perfect podcast for your lesson. Or, use the keyword search feature on the "All Podcasts List and Search" page to quickly find exactly the topic you need.
Discussion questions included right in the app!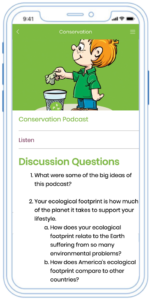 Each standards-aligned podcast includes a synopsis, discussion questions, health message, and character value. These are accessed right on the same screens where you access the podcasts. (For a limited time, educators who subscribe can get a free copy of our electronic Teacher's Guide with detailed lesson plans and quizzes for each educational podcast.)
The Walking Classroom available for Android, iOS, and in your web browser!
The app is available for both iOS and Android and requires Wi-Fi or cellular data. A web-based version is also available for bulk purchases. This version can be accessed in any web browser.
You probably have some questions…