We hope this helps all of the teachers, parents, and caregivers who are struggling to keep their kids actively engaged and learning during the COVID-19 pandemic.
Learn about The Walking Classroom mobile app!
Loaded with almost 200 fun, educational podcasts, The Walking Classroom mobile app brings our award-winning (100% ad-free) program to your own mobile device. Now kids (and families) can walk at home—or anywhere—while listening to these fun, custom-written, educational podcasts. (Learn more about WHY you should walk while listening, here.)
The app includes 26 free podcasts for you and your students to sample!
Almost 200 podcasts are included in the app!
The app includes 191 15-minute podcasts on topics related to English language arts, social studies, science, biographies, and more.
Finding a podcast
Simply select a category from the navigation menu and then scroll downward through our well-organized and thought-out subcategories to find the perfect podcast for your lesson. Or, use the keyword search feature on the "All Podcasts List and Search" page to quickly find exactly the topic you need.
Discussion questions included right in the app!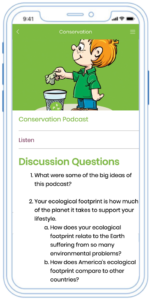 Each standards-aligned podcast includes a synopsis, discussion questions, health message, and character value. These are accessed right on the same screens where you access the podcasts. (Educators can purchase our complete Teacher's Guide with detailed lesson plans and quizzes for each educational podcast.)
The Walking Classroom available for Android, iOS, and in your web browser!
The app is available for both iOS and Android and requires Wi-Fi or cellular data. It's also available in any web browser.
You probably have some questions…
No! When you click to play the podcast you want to listen to, it buffers the audio to your mobile device. Let it begin playing for a 1 minute or 2 and you'll be ready to go for a walk, with or without Internet access.
Not at all. Our app does not include ads of any kind. Enjoy a completely ad-free learning experience!
The monthly subscription to access the entire podcast library (191 podcasts!) is only $3.99/month per user! And, the app includes 26 free podcasts to test out.
You can purchase the electronic Mobile App Teacher's Guide that includes lesson plans and quizzes for all podcasts as well as program management guidance for implementing the program in a classroom or out-of-school time (OST) environment in our online store now. Visit the Teacher Resources section of the app to get easy access to purchase our electronic Teacher's Guide,  our free supplemental resources (for ALL 191 podcasts), free online training, and more. 
Yes! Subscribers will be able to access our free online training for educators.
Yes! Additional supplemental resources are available for every podcast for educators who become program adopters/subscribers. Those resources are available with your subscription and include an electronic version of the quiz, a slide deck, related video links, worksheets, and lots of other curated online resources for every podcast.