How can The Walking Classroom fit into your day?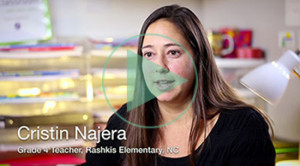 Watch this short video to see real teachers discussing their experiences and successes using The Walking Classroom with their students.
The Walking Classroom can be used in:
Classrooms
Out-of-school time programs
Summer programs
And other educational settings
›› Watch this webinar to learn more
In the classroom
Many of the program adopters are classroom teachers that implement The Walking Classroom during the regular school day. Adopters understand that they aren't sacrificing instructional time, but they are actually covering the required curriculum in a way that science shows makes sense!
Students who walk, listen and learn are going to remember the content covered in a podcast in addition to having more focused minds and settled bodies long after the walk has ended.
Students who are disengaged in the classroom, often due to a lack of confidence, can feel empowered and motivated to participate, as the delivery of content doesn't require them to grapple with difficult text. The Walking Classroom differentiates instruction and engages different learning styles — creating a more even playing field for all students to access the content being covered.
Traditional instruction often leaves out auditory and kinesthetic learners.
Teachers are able to cover important content that they are required to teach with little to no additional planning on their part.
My co-teacher and I love planning around the podcasts and feel that we are already farther ahead with literacy materials than we have ever been.
– Laura Henderson, 5th Grade Teacher
---
It is great because we were able to tie in social studies one week, and the other week, we were listening to something we were discussing in language arts.
– Paula Simmonds, 4th Grade Teacher
Targeted Intervention
The Walking Classroom is a wonderful resource for reaching and teaching ALL students.
ESL and EC students will benefit from the exposure to challenging vocabulary and a wide array of content that increases background knowledge (with the added bonus of feeling more confident and willing to participate in discussions!).
My students (majority ELs from diverse countries) are all engaged and successful with in-depth discussions before, between the two listenings, and after, as well as correcting each others' listening comprehension quizzes and discussing the answers.
— Sarah Laurens, 5th Grade Teacher
Students with behavior problems and/or high energy levels are going to feel more settled and ready to keep learning following a walk.
The Walking Classroom has been wonderful this year. We have used it so many ways…in our reading groups, in an after school club for 4th graders to walk and talk after school once a week, and I have also used it as a bonding technique with a student at our school with behavior problems. I take the student individually during my plan and we walk and listen and then talk about the podcasts. He returns to his class more relaxed and ready to learn. His behavior definitely improves when we walk!
— Kim Creer, Reading Teacher
Students that struggle with obesity are going to increase their health literacy, have the opportunity to exercise more regularly and increase their energy level and stamina.
I had a parent tell me just yesterday in a conference that she suspects the reason that her formerly obese child is losing weight can be solely attributed to the Walking Classroom! It gave me warm fuzzies!
— Megan Marske, 4th Grade Teacher
Struggling Readers have equal access to high-level content and feel confident enough to participate in follow-up discussions with their peers. They have the benefit of not having to struggle to decode a written text, but learn in a way that they can feel successful.
I have a wide variety of reading levels in my classroom so we usually cannot all read the same text. The Walking Classroom makes it possible for my struggling readers to easily join in the conversation as they have received all the material in a format they can understand.
— Mary Wolf, 5th Grade Teacher
Here's an idea! Create a Walking Club!
Exercising in the morning will greatly benefit students' physical, emotional and academic health. Getting those endorphins going early will help students be more awake and ready to tackle the school day!
Many schools have seen incredible results when students experience The Walking Classroom prior to the start of the school day as participants in a morning walking club. The club can be run by a P.E. teacher, school nurse, resource teacher, parent volunteer or anyone interested in being the facilitator. Students arrive at school, head to a designated area, get their WalkKit and get moving. Students get in some fresh air and exercise, AND they are also learning core content before the school day has even begun. The group of students participating in the walking club could be a grade level or perhaps a group chosen based on certain criteria (i.e., health concerns, lack of background knowledge, behavior issues, etc.).
We have one student in particular who has a tough time getting going in the morning and is often a disruption till he settles in. So that he is continually learning, he goes for a walk every morning, while listening to a story. We have seen a vast improvement in his behavior and learning.
— Brett Reif, 5th Grade Teacher
The Walking Classroom program can be used in all kinds of learning environments.
›› Watch this afterschool webinar to learn more
After School
After school time is extremely valuable and an incredible opportunity to provide students with additional exposure to academic content, enrichment, and much needed exercise. After school students are not interested in being asked to sit still and listen and learn; they've been doing that all day long!
The Walking Classroom provides after school programs with an excellent opportunity to seamlessly incorporate exercise and learning so that students can learn in a way that is often radically different than what they have experienced during the school day. There's also a wonderful opportunity to work with teachers to reinforce what they are teaching during the school; a little collaboration could make a tremendous difference.
Out-of-School
Summer and the outdoors are pretty much synonymous. Students are excited to be out of school but so often during this time they experience the infamous "Summer Slide." Rather than asking students to spend their summer sitting in a desk like they do all school year, The Walking Classroom combats the "Summer Slide" while getting kids outside and moving, and learning required curriculum.