The Walking Classroom Mobile App
We Offer Two App Options
Web-Based App: For classrooms or large groups, subscribe to our web-based app in bulk and users can access it in their Web browsers on mobile devices or even computers. An optional Support Contract is also available!
››› LEARN ABOUT BULK SUBSCRIPTIONS AND GET STARTED HERE!




Traditional App: For individuals or groups of 10 or less, download The Walking Classroom Podcasts app from either app store on your mobile device. App includes 28 free podcasts to sample with an in-app purchase option to access the full library. AVAILABLE IN THE APP STORES!
Get the Mobile App Teacher's Guide Here!
A special Mobile App Edition Teacher's Guide is also available. This guide includes lesson plans for all 191 podcasts, including lesson plans for the 24 bonus podcasts that are not included with The Walking Classroom Complete Program.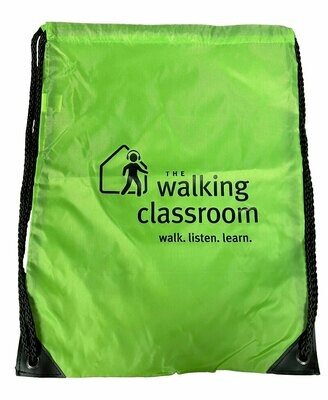 Drawstring Backpack for walking with tablets
Drawstring Backpack for walking with tablets
Great for walking while listening to podcasts with a tablet or small laptop.
› Download a printable order form